SIGN UP FOR FUTURE BLOG POSTS
CREATE YOUR FUTURE ON PURPOSE AND MAKE AN IMPACT
Do you desire to move forward but have no idea where to start? Did you start taking action and then get stuck? Have you tried other alternatives, with spending a lot of money, but the problem still lingers? If you answered "yes", you're in the right place. You don't have to do this by yourself. Allow me to assist, as you create your future on purpose and make an impact with a step by step blueprint!
RESTING ON HIS PROMISES
Your true identity rests on who God says you are, who He created you to be, by His design, and purpose for your life.
Are you ready to discover how God has got you covered to bring victory in every area of your life? Are you ready to be encouraged to never lose hope? Then Resting on His Promises is JUST FOR YOU!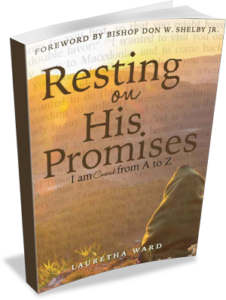 THIS WAS JUST WHAT I NEEDED!!!! OMG!! So I JUST decided I want to write a book but where do I start? Google of course… but I was so OVERWHELMED with all the information and the rabbit holes I found. Then I saw this course and my goodness! It has saved me so much time because EVERYTHING I wanted and NEEDED to know was in one place and so concise and clear! Everything promised for this course was delivered. I feel very confident I can write the book(s) that will have the impact I desire for my audience! The visual of writing for one person makes this process less intimidating! Thank you Lauretha!!
Carol D.
Blueprint for Success! This course is a wonderful introduction for getting started with your manuscript and can be used by both new and seasoned Authors alike. I especially like the assignments at the end of the modules. It helps to put action behind the desire of writing a book.
Whit D.
A Necessity For The Aspiring Author! This course provides both the guidance and tools necessary to prepare you to begin the writing process. As an aspiring author, the content shared as part of the course along with the downloadable worksheets gave me the clarity and direction I needed to get started. I highly recommend this course for those who desire to write but don't know where to begin.
Tamara M.
The Way To Get Started! Blueprint for Writing 101 has given me the tools and strategies needed to start writing a book. This course not only provides you with practical steps but also helps you identify and overcome any mental hurdles that may be covertly blocking you from putting ink to paper.
Corey J.
Just What I Needed! After several attempts at writing a book and getting stuck, I decided that I needed some help. I took Lauretha's course "Blueprint for Writing 101" where she outlines the steps you need to take before you even sit down to write. Now that I've followed those steps, I am on my way to completing my first manuscript! If you are stuck like I was, take this course! You won't regret it.
Sharla F.
Thank you Lauretha Ward for being encouraging without pushing. Ultimately it's me that has to move on this but it's your inspiration that has helped me. Truly.
Tuesday S.L.
Lauretha thank you so much for being who you are and for sharing of yourself and wisdom with me and others, it is much appreciated. God Bless you!
Ange' T.
Thanks for inspiring me Lauretha to go deeper in my faith, with consistency and purpose.
Kathy H.
Thank you for being so encouraging and speaking LIFE into my dreams.
Robin C.
This error message is only visible to WordPress admins
Error: No posts found.
Make sure this account has posts available on instagram.com.